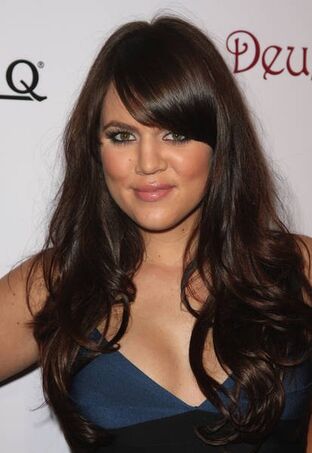 Well, folks, it's official. Sister-friend Khloe Kardashian will not be back to work the mic alongside Mario Lopez when The X Factor returns in the Fall.
Is it just us, or do you suddenly have a montage of Khloe's awkward phrasings ("Now, Taylor Swift, you've been a young star...") running through your head while "I Will Remember You" (possibly sung by, like, Carly Rose) runs through your head? Just us? Okay, moving on.
XF producers released a statement about her departure, saying "Khloe Kardashian will not be returning to co-host The X Factor. We really enjoyed working with her and wish her all the best in her future endeavors."
Khloe was clearly a beginner when she first took the stage in crazy couture, with mad volume control issues (what, are they not miked on Kardashians?) and a deep-seated fear of crossing Papa Simon. But by the end of the season, she and Mario almost had chemistry. It's a shame to see her sweet self voted off the stage.
So, what happened? We're not sure exactly. Although Simon was stoked to have Khloe come on board during Season 2, her performance was obviously not what he had in mind. He repeatedly espoused excitement over the potential for her to share some of her sass and sparkle while hosting the FOX show, but the attitude never made the cut.
"Mario... he's a really professional, safe pair of hands... and Khloe — certainly in her first season — would need someone around who's had a lot of experience," Simon told us on a conference call last Fall. "And that's why in the end we decided on those two. I mean, Mario was always up there as one of the top candidates. And seeing them together... it was the right decision. They do have a great chemistry."
But going into the third season, his tune has definitely changed. "I'm thrilled Mario is back for Season Three of The X Factor," Simon said in an earlier press release. "Hosting a live show and keeping the judges — especially Demi — in line, is not an easy job, but Mario is a pro and we are glad he's coming back."
Nothing hurts like losing the love of a father figure, eh Khlo? We're not sure that Khloe was fired per se, but no statement has been issued to the contrary as of yet. Thoughts?
Source: http://www.wetpaint.com/the-x-factor/articles/x-factor-2013-khloe-kardashian-will-not-return-confirmed?fb_pid=1366672044&utm_campaign=vrl&utm_medium=fnpg-kktny&utm_source=facebook.com