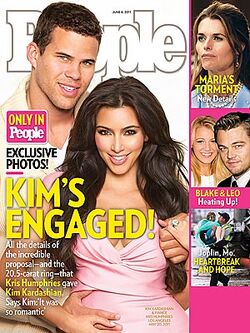 OMG! The thing that Kim's been wishing for has finally happened! The reality mega-star has just gotten engaged to Kris Humphries, the New Jersey Nets forward!! After a whirlwind six-month romance, the basketball star proposed to Kim Kardashian at her family's house so that her entire family could witness Kim's happy moment.
Kris Humphries proposed by laying out rose petals that spelled out: "Will you marry me?" While Kris Jenner jokingly brought out mini-horses decked in glitter. Sounds like quite an event!
The Rock
And the ring? The ring was personally designed for Kim Kardashian by a family friend and famous jeweler, Lorraine Schwartz. It's a 20.5 carat sparkler: 16/5 carat emerald cut center with a pair of 2-carat trapezoids!
Kris Humphries says: I just knew I wanted it to be big!" Sounds like Kim got her fairytale ring: "It's the most beautiful thing I have ever seen," says Kardashian of the ring. "It's perfect." Humphries even managed to work out the design without Kim knowing. Kardashian explains, "[Lorraine] always listened to what I would want and the shapes I love. I had said I loved an emerald cut and they were scheming and plotting for a while." Humphries confided his plans in his parents, but felt confident in his decision. "I knew she'd love it–she better!"
Are you happy for Kim? Looks like all three sisters are taken! Check out our gallery for more Kris/Kim pictures!
Source
Kate.moon 17:37, May 25, 2011 (UTC)