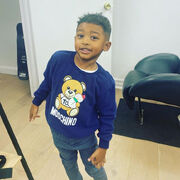 Prince Thompson is the only child of Jordan Craig and Tristan Thompson, making him the older half-brother of True Thompson.
Trivia
Prince is Jamaican and Chinese through his mother & Jamaican from Tristan as both Tristan's parents are from Jamaica.
Tristan Thompson was ordered to pay $40,000/month in child support and $200,000 in backend payments on behalf of Prince Thompson. Tristan must also put away $1250 a month in a savings account for Prince, which totals $15,000 annually.
Jordan Craig filed this case in September 2016, citing that Tristan had only seen their son nine times from the time he was born in December 2016 to November 2018. Tristan also pays $2000 for Prince's private tutor. If Prince attends a private school, Tristan is responsible for full tuition costs. Lastly, Tristan agreed to pay Jordan $10,000 to cover backed medical bills stemming from her pregnancy.
Prince's grandfather, Carl Craig, is an executive producer at BET responsible for shows such as Real Husbands of Hollywood starring Kevin Hart and American Soul. His grandfather also produced many music videos for NWA, Snoop Dogg, Dr. Dre, Ice Cube, Kurupt. Carl Craig has also produced comedy specials for Keenan and Damon Wayans. He also produced comedy shows such as "Big Black Comedy Show", "Michael Basden After Dark" and "Bill Bellamy's Who's Got Jokes".
His uncle, Amari Thompson, has epilepsy and suffers from daily seizures. His father created the Amari Thompson Fund to help children and families with epilepsy.
His uncle Dishawn Thompson played basketball for Wesley Christian High School in KY as a highly rated prospect, but has since pursued a rap career as "Lil Early". His uncle Daniel Thompson plays basketball in Canada. His grandmother Andrea ran track while his grandfather played soccer as Tristan Thompson did before playing basketball.
He is the cousin of former Canadian Football League defensive tackle Jemal Thompson who may be a firefighter in Canada.